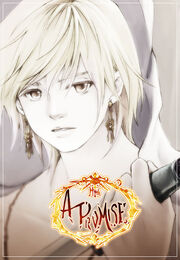 MYth is a manga created by Zelda Wang. It started as a webcomic around 2008 in smackjeeves and is still updated until today , and then started to be published and sold at AX 2008. Is a "retake" of Greek Mythology, but is "Zelda's version".
Concept
[
]
The Concept of "MYth" started when Zelda was 12 years old and lived in Taiwan; as an assignment for her art class, she made a story about Greek Deities Apollo and Diana which she called "MOONLESS"; in 2008, she entered to a TokyoPop contest making a remake of this story, and won two prizes with it. This made her to start working in the first of her 'short' stories, My Seasons.
After publishing for a while in smackjeeves, she decided to sell the complete comic in AX; after the success of the first story, she wrote Eternal Gift (Sold at AX 2009), and then the three-years project A Promise.
Section heading
[
]
Write the second section of your page here.